Support NHLP
Your gift of general support advances NHLP's work and helps launch our next 50 years!
NHLP's Memorial Fund Program
NHLP REMEMBERS DAVID BRYSON AND SYLVIA BRENNAN

Click here to view the 2018 Memorial Brochure.
Learn more about these housing heroes:
David B. Bryson and Sylvia M. Brennan
The National Housing Law Project (NHLP) established the David B. Bryson and Sylvia M. Brennan Memorial Funds in 2006 to honor our two former colleagues who were highly-respected and well-loved by the staff at NHLP and their colleagues in the larger world of housing justice. Both David and Sylvia found their meaningful life's work in using the power of law to advance the right of the each person to a decent, safe and affordable home. In committing their passion and talents to housing justice for the underserved, each left legacies that are reflections of their individual characters and lessons for all of us.
NHLP's David B. Bryson and Sylvia M. Brennan Memorial Funds will continue David and Sylvia's work by fostering the development of new generations of attorneys engaged in housing law to benefit our country's most vulnerable – the poor, the elderly and the disabled. Since the establishment of these programs, NHLP has hosted nearly 100 Sylvia Brennan law interns and two David Bryson Fellows.
With your gift, you are making an investment in the rising generation of committed advocates who will move housing justice forward. With the help of friends, family, former colleagues, and an ever-growing circle of those who believe in the right of everyone to a decent home, the David B. Bryson and Sylvia M. Brennan Funds will continue to cultivate the best and brightest legal advocates at the start of their professional journeys.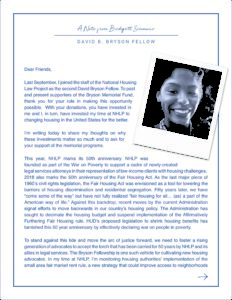 Your gift in support of this program will benefit the memorial fund of your choice. If you do not specify a fund, the gift will benefit both funds.
Gifts made to the Bryson and Brennan Memorial Funds are considered restricted for use in conjunction with the intent of the funds. They will not be used in general operating support of NHLP.
All gifts are tax-deductible.
Thank you for your contribution in support of the David B. Bryson and Sylvia M. Brennan Memorial Funds and for helping us to honor their memories through the work of this program.
NHLP welcomes multi-year pledges of support to the memorial fund program. If you have any questions regarding the funds, pledges or would like to discuss any other giving options including planned gifts, bequests, gifts of stock or equities, please contact:
Susan Stern (sstern@nhlp.org), phone 415-432-5710 at the National Housing Law Project.