Immigrant Rights
May 2019: HUD's Proposed Noncitizen Rule: Microsite and Resources
On May 10, the Department of Housing and Urban Development (HUD) published a proposed rule that would effectively evict thousands of immigrant families legally living in federally subsidized housing, including public housing and Section 8. The proposed rule focuses on ending critical housing assistance for over 25,000 mixed status households, or families comprised of both members who are eligible and ineligible for federal housing assistance because of their immigration status.
According to figures provided by HUD, over 55,000 children who are eligible for public and assisted housing would face eviction because they live in mixed status families. Additionally, HUD anticipates that the rule will substantially increase costs by millions of dollars, such that the agency would have "to reduce the quantity and quality of assisted housing" for everyone, not just immigrant families, who accesses lifeline housing subsidies.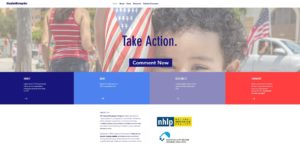 NHLP has partnered with NLIHC to create a microsite to help people comment on this disastrous rule. The website features a comment portal where individuals can submit, resources such as our FAQ and Talking Points, and a comment template letter that organizations and individuals can use to help craft their comments.
The commenting period closes July 9, 2019, so be sure to visit the microsite and submit your comments A.S.A.P.!
VISIT #KEEPFAMILIESTOGETHER MICROSITE
NEWS:
The Trump administration published a proposed rule on May 10 that would prohibit "mixed status" immigrant families from living in public and other subsidized housing. The rule would result in family separations and evictions for certain immigrant families, putting tens of thousands of people and children at increased risk of homelessness.  The National Housing Law Project and National Low Income Housing Coalition are hosting a Twitterstorm on May 16 at 3:00 p.m. ET/12:00 p.m. PT to oppose this harmful and cruel proposal.
Mixed status families are households that include members who are eligible and others who are ineligible for housing assistance based on their immigration status. Current statute and law allow families to live together in subsidized housing with one or more eligible family members; the housing subsidy is prorated to exclude the ineligible person from the assistance. Under the proposed rule, families with members who are deemed ineligible will be forced to separate from one another or be evicted from their subsidized housing after 18 months or sooner.
QUESTIONS?
Contact Karlo Ng at kng@nhlp.org or Arianna Cook-Thajudeen at acooktha@nhlp.org
April 2019: NHLP Denounces HUD's Proposed Noncitizen Rule
On April 17, the Department of Housing and Urban Development (HUD) released a proposed rule for Congressional review that would prohibit "mixed status families" from living in public housing and Section 8 programs. The rule would further require all residents under the age of 62 to have their immigration status screened through the Systematic Alien Verification for Entitlements Program (SAVE), which is operated by the Department of Homeland Security.
Mixed status families are households that include both members who are eligible and ineligible for housing assistance based on their immigration status. Under a federal law called Section 214 of the Housing and Community Development Act of 1980, the housing subsidies of mixed status families are prorated so that ineligible family members do not receive any housing assistance. By providing assistance only to citizens and other eligible immigrants, the law permits members of mixed status families to reside together. HUD claims that the proposed rule is only "enforcing existing law" and is needed "to help trim waitlists."
"Contrary to HUD's claims, this rule would primarily strip housing assistance from the citizen children of immigrants. It is part of a broader strategy to demonize all immigrants, no matter whom it harms. If the Administration really cared about solving the public housing waiting list crisis, then it would increase funding for federal housing programs," said NHLP Executive Director Shamus Roller. "Instead, the Administration has consistently proposed cutting funding for public and assisted housing."
Adrianne Todman, CEO of the National Association of Housing and Redevelopment Officials, stated, "…to create a new rule that will disrupt existing tenants and families seems both cruel and unnecessary. And using lengthy waiting lists as the excuse to do so is, frankly, ridiculous. Waiting lists are long not because of undocumented families, but because there is not enough public housing to help all who need it."
This proposed rule comes shortly after the Department of Homeland Security issued a proposed "public charge" rule last October that would effectively prohibit immigrant families from accessing critical life-line programs such as healthcare, nutrition, and housing programs.
The proposed HUD rule threatens the housing stability of thousands of immigrant families that legally reside in public and Section 8 housing and will further increase the panic, fear, and confusion among immigrant communities.
The proposed rule will be reviewed by Congress for 15 days and then published in the Federal Register where the proposed amendments will be available for public comment for 60 days. During this 15-day review period, NHLP urges you to contact your federal legislators to encourage them to oppose the rule by writing letters to HUD.  NHLP will provide additional information when the rule is published.
April 2019: NHLP Public Comment Opposing USCIS Tip Form
Read NHLP's Comment Letter +
December 2019: The National Housing Law Project condemns the Trump Administration's attempt to punish legal immigrants and their families for accessing critical, lifesaving benefits.
On October 10, the Department of Homeland Security (DHS) officially published a proposed rule that would make it easier for certain immigrants to be considered a "public charge" and, therefore denied admission into the country and denied green cards because they access food, nutrition, and housing programs.
The rule would drastically change immigration policy by expanding the types of benefits that DHS would consider in a public charge determination to include benefits such as Medicaid, SNAP (food stamps), public housing, and Section 8 housing subsidies. Previously leaked drafts of this policy change have already led many families to drop out of critical food and nutrition programs for their children, and this chilling effect is poised to impact hundreds of thousands of hardworking immigrant households that depend on these programs for survival.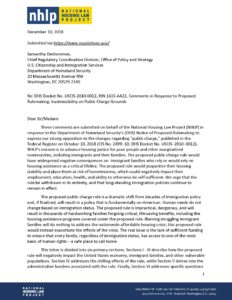 NHLP submitted comments opposing the proposed public charge rule.
View NHLP's comments here.
The National Housing Law Project, along with over 300 organizations nationwide, partnered with the Protecting Immigrant Families Campaign to help lead the charge against this disastrous proposed rule during the public comment period, which closed December 10, 2018. We're happy to report that over 216,000 comments were submitted, the vast majority of which oppose the public charge rule.
To learn more about the rule and what you can do: