Housing Justice Network Conference
Registration open for the
HJN

 Conference!
OCTOBER 29-31, 2022
Washington D.C.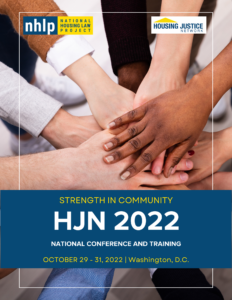 After two years of virtual meetings and trainings, we are looking forward to being able to gather in person for the 2022 HJN Conference! The conference is an excellent opportunity to meet with colleagues and build our collective capacity to advance housing justice for low-income families across the country. Join the National Housing Law Project in Washington, D.C. October 29 – 31, 2022 for a not-to-be-missed Housing Justice Network National Conference and Training. Come to learn, reflect, and grow professionally as network members from across the country share successful client strategies, study emerging issues, identify policy priorities, and enjoy thought provoking plenary speakers.
Register now for Early Bird discount by September 29th!
Conference Hotel and Lodging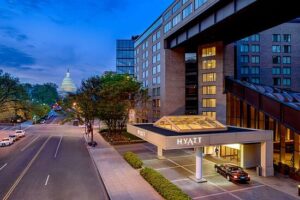 Hyatt Regency Capitol Hill
400 New Jersey Ave NW, Washington, DC 20001
(202) 737-1234
NHLP has negotiated discounted HJN room rates of $265/night (single or double).
Book Online at the Hyatt by Thursday, September 29th!
If booking by phone, reference "HJN National Conference."
Fees
The Early Bird registration deadline is Thursday, September 29th
Online registration is preferred; a printable form to register by mail is available in our HJN 2022 Conference Brochure. Mailed forms must be postmarked by September 29th to be eligible for the early bird discount.
Questions on your registration? Email Wendy Mahoney
Discount for Multiple Attendees
There is a 15% discount for five or more attendees from the same organization or program. Please submit
a registration form for each attendee.
Scholarships
We are able to provide a limited number of scholarships, which will be reviewed on a rolling basis. We
will prioritize affordable housing residents, housing organizers, and other non-lawyer advocates. To
submit a request, please email no later than September 1st with "Scholarship
Request" in the subject line. Please explain why attending the conference is important to you, why your
organization cannot afford to cover the costs (if applicable), and what costs you would like to be covered.
Cancellation and Refund Policy
To qualify for a refund less a $50 handling fee, please send an email by October 10th.
Covid 19 Precautions
All attendees will at least be required to provide proof of vaccination or reasonable accommodation.
NHLP will evaluate additional COVID protocols closer to the date of the conference.
Training and Conference Schedule

Training October 11th (Online) & October 29th (In-Person)
IN TWO-PARTS: ONLINE PRE-CONFERENCE WEBINAR AND IN-PERSON PRACTICAL TRAINING
NHLP's federal housing training provides two opportunities to learn with the nation's top experts. Part One,
Laying the Foundation, is a live pre-conference webinar on October 11th, during which NHLP will provide a
comprehensive overview of the federal housing programs. Part Two, Raising the Roof, is an in-person
session on October 29th at the HJN Conference and Training in Washington, D.C., where NHLP staff will
be joined by a national team of highly-experienced HJN trainers. Participants will move past the basics and
engage in interactive learning and simulated client cases.
Tuesday, October 11th: 12pm – 4pm ET (9am – 1pm PT), Part One: Laying the Foundation, Online Webinar. Online access information and training materials will be provided after payment of registration.
Saturday, October 29th: 8:30 am – 2:30 pm, Part Two: Raising the Roof, In-Person Training
Conference Schedule (In-Person)
Saturday, October 29th
3 pm – 5:30 pm, Examining Front Burner Issues and Strategies. Sit down with colleagues in roundtables and listening sessions for focused discussions on the prominent housing issues facing our clients. Identify policy priorities and strategies in HJN Working Group meetings.
6 pm – 8 pm, Welcome Happy Hour, The Dubliner Restaurant and Pub, 4 F Street, NW
Join us as we welcome newer members to the Housing Justice Network. Old friends are invited too!
The Dubliner is just a few blocks from the hotel.
Sunday, October 30th
8 am – 8:30 am, Continental Breakfast
8:30 am – 5:35 pm Welcome, Plenary, and Conference Sessions
6:30 pm – 9 pm HJN Reception and Awards
Please join us for a reception at the Hyatt Regency Hotel. The HJN and David Bryson Awards will be
announced during the reception. This will be a great chance to catch up with friends new and old!
Monday, October 31st
8:30 am – 9 am Continental Breakfast
9 am – 1:30 pm Conference Sessions and Luncheon
1:30 pm – 4 pm Capitol Hill Visits
Interested in meeting with your members of Congress to share the great work you're doing back
home? NHLP's Director of Government Affairs, Noelle Porter, will arrange meetings on Capitol Hill for
HJN members. Please email Noelle Porter by Thursday, September 29 if you would like
to participate in this exciting opportunity.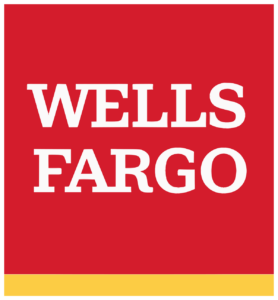 This conference is sponsored in part by a generous contribution from Wells Fargo.