Evictions Surveys: What's Happening on the Ground
JULY 2022:  RISING EVICTIONS IN HUD-ASSISTED HOUSING:  SURVEY OF LEGAL AID ATTORNEYS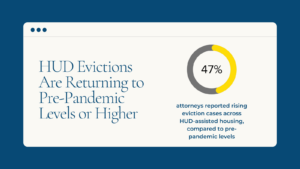 In Spring 2022, the National Housing Law Project surveyed 148 legal aid and civil rights attorneys in 39 states, DC, and Puerto Rico, to assess how tenants are faring in HUD-assisted housing, specifically HUD's public housing and Housing Choice Vouchers (Section 8) programs at this point in the pandemic.
Top findings include:
HUD evictions are returning to pre-pandemic levels or higher;
Many public housing authorities (PHAs) ignored strategies for reducing rent that would have helped families;
Tenants with housing vouchers fared worse than tenants in public housing;
Many HUD-assisted tenants did not benefit from emergency rental assistance;
Public housing authorities and voucher landlords continue to violate the CARES Act 30-Day notice requirement and courts aren't enforcing it.
Click here to view our news release.
Eviction Prevention Toolkit
This resource is geared toward legal advocates who are working to keep public housing and voucher tenants stably housed and to prevent their evictions for nonpayment of rent, especially in this time of rising rents and inflation. The resource is divided into two sections. The first is focused on systemic advocacy targeted to public housing authorities, and the second is focused on eviction defense strategies to help individual public housing and voucher residents.
New Options to Increase Voucher Payment Standards
This new resource from NHLP and the Poverty & Race Research Action Council PRRAC provides tips for advocates working with local PHAs seeking to increase voucher payment standards. It details new options for PHAs to make the voucher program more affordable for families.
DECEMBER 2021:  EVICTIONS SURVEY:  WHAT'S HAPPENING ON THE GROUND?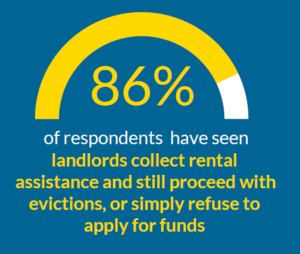 This fall, the National Housing Law Project surveyed 119 legal aid and civil rights attorneys in 41 states, DC, and Puerto Rico to see how tenants were faring after the federal eviction moratorium ended in August 2021. These attorneys are part of the Housing Justice Network, hosted by NHLP. This is a follow up to our July 2020 survey.
Courts and landlords continue to evict families, in spite of legal protections and billions of dollars in aid to landlords.
The numbers in this survey are the tip of the iceberg because they only take into account families who were represented by legal aid attorneys during COVID. Nationally, only 3% of tenants have legal representation, while 81% of landlords do.
This survey captures an important moment in time and offers a look at what is actually happening on the ground now. It also offers ideas for how to improve our current housing and court systems, which have usually put tenants last. Click here to view our press release.
JULY 2020 : WHAT'S HAPPENING WITH EVICTIONS? A SURVEY OF LEGAL AID ATTORNEYS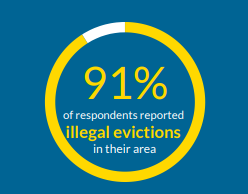 At the end of June 2020, the National Housing Law Project surveyed 100 legal aid and civil rights attorneys in 38 states to see how tenants were faring during the pandemic. Legal aid attorneys simply don't know how they will be able to handle the possible 20-28 million evictions that could come by the end of September. Under the federal moratorium in the CARES Act and many state and local eviction moratoria, it is illegal to evict someone for not paying rent. The CARES Act moratorium expires July 24th. Starting July 25th, tenants will begin to get eviction notices unless Congress and the federal government act.