Obituary for David Madway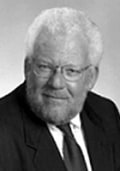 David Madway, who was a leader of the National Housing Law Project and the national legal services movement for almost two decades, died peacefully on Saturday, June 26, 2021. His death followed a long illness.
Originally from Philadelphia, David earned his B.A. from Earlham College, a Quaker school in Indiana, in 1961, and his J.D. from the University of Chicago School of Law in 1964. He began practice with a New York firm, but left it in 1969 to join the staff of what was then National Housing and Economic Development Law Project. His first role was as head of the Project's Economic Development section.
Initially, he focused on homeownership by low income people under the HUD and Department of Agriculture programs. With Frances Werner (also later a Director of NHLP), he wrote several articles about foreclosures under those programs. He participated in amicus briefs in Greene v. Lindsey[1] and Block v. Neal,[2] and helped to litigate the Garney White case in the Fifth Circuit.[3]  He was intimately involved in the Ferrell litigation, a national class action brought in Chicago that successfully challenged HUD's failure to provide mortgage foreclosure relief to homeowners who had received FHA insured mortgages.[4] (Ferrell was litigated principally by George Gould of Philadelphia's Community Legal Services and Bill Wilen of Chicago's Legal Assistance Foundation. Bill Wilen also died earlier this year.)
When the National Housing Law Project and the Economic Development Law Center split into two organizations in 1977, David became director of the National Housing Law Project and continued in that role for ten years.  As director, he continued much of the foreclosure relief work he had done earlier, including effective advocacy with HUD officials and members of Congress.  Working with Gideon Anders, he helped to secure HUD funding and the City of Berkeley's approval for a 169-unit Section 202 development (Redwood Gardens) on the University of California at Berkeley's Clark Kerr campus. David's tenure as Director of NHLP covered the Reagan years, when legal services in general and the back-up centers in particular were under unremitting attack. It is not too much to say he saved NHLP from elimination and played a major role in preserving the other back-up centers. Working with other back-up center leaders (through OLSBUC – the Organization of Legal Services Back-Up Centers) and legal services advocates, he helped to preserve NHLP and its sister organizations and their capacity to do groundbreaking advocacy in all forums.[5]  The director of one of the other back-up centers said that David "was a real role model" for him.
After David left NHLP, he became general counsel of the San Francisco Redevelopment Agency; his service there covered the ten-year period that included the development of Yerba Buena Gardens and the San Francisco Giants' Ballpark, as well as the beginning of redevelopment of Mission Bay and the  Hunter's Point Naval Shipyard.  At the Redevelopment Agency, David was responsible for the production of many units of affordable housing.  Thereafter, he joined the firm of Sheppard, Mullin, Richter, & Hampton, responsible for highly sophisticated financial transactions throughout the country and the representation of local governments. He was a consultant to U.S. Agency for International Development and the World Bank and was counsel to Telesis Corporation of Washington, DC, a developer of affordable housing communities.
David was a voracious, eclectic, and critical reader and an extraordinarily knowledgeable and sensitive connoisseur of music. He loved to travel. He was devoted to his sons, Jesse and Gabe, and his grandchildren. He leaves a great legacy in the achievements and commitment of the National Housing Law Project and the other legal services support centers. He is and should be remembered with admiration and gratitude for all who care for justice.
[1] Greene v. Lindsey, 456 U.S. 444 (1982) (deficient service of process is denial of property without due process of law)..
[2] Block v. Neal, 460 U.S. 289 (1983) (Damage Claim for FmHA's negligent construction supervision not barred by Federal Tort Claims Act).
[3] U.S. v. Garney White, 543 F.2d 1139 (5th Cir. 1976) (on remand 429 F.Supp 1245 (N.D. Miss. 1977) (FmHA's non-judicial foreclosure and its failure to advise borrowers of their right to secure interest credit subsidy and a moratorium on mortgage payment without prior notice and the right to administratively appeal agency's decisions violated the borrowers' constitutional due process rights.).
[4] Ferrell v. Pierce, 560 F.2d 1344 (N.D. Ill. 1983).
[5] See, e.g., National Senior Citizens' Law Center v. Legal Services Corp., 751 F.2d 1391 (D.C. Cir. 1985) (invalidating changes in terms and conditions of national support center contracts).